The backbone of 1220 consists of over forty experienced and skilled technicians, craftsmen, and artisans.
With a combined 43 years of experience, the four 1220 team leaders are fully equipped to lead any project in successful fabrication and installation. Our Nashville production facility houses woodworking, plastics, metal, paint, scenic, graphics, AV, and electromechanical studios. With over 100,000 square feet, 1220 has ample space for manufacturing, prototyping, viewing, storing, and shipping displays.
STATE OF THE ART EQUIPMENT
1220's carpenters can conquer any project. Our team combines their extensive
knowledge of carpentry and materials with creative problem solving to create distinctive displays that represent strong craftsmanship and attention to detail.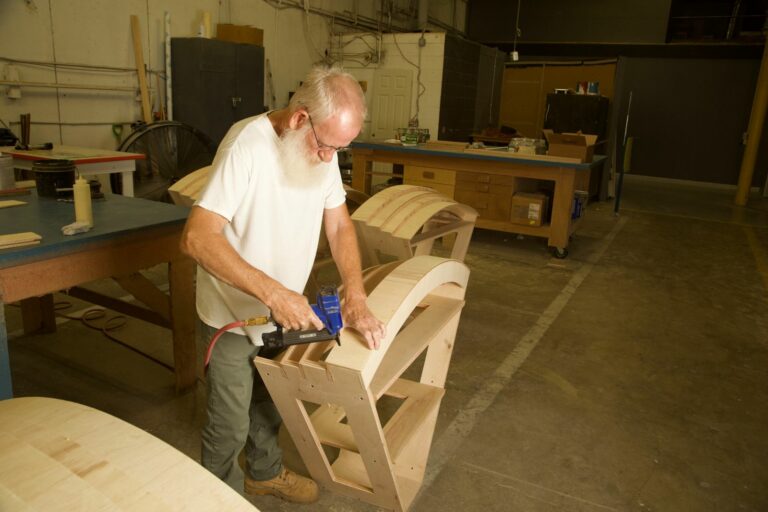 FREEDOM TO DESIGN INTRICATE DETAILS
Two CNC routers allow designers and clients the freedom to design intricate details. Through approved technical drawings, router files are created and sent electronically to the CNC operator for production before being sent to the Team Leader for incorporation into the exhibit element.
1220's metal fabrication serves as both exhibit support and enhancements. Our metal department works with a variety of steel and aluminum such as sheet metal, rods, bars, pipes, and tubes. The use of a band saw, a metal shear, a CNC router or even a plasma cutter ensure a quality cut. Metal tube and pipe are custom rolled, cut, and welded to create unique pieces.
1220 utilizes drilling and machining, thermal forming and bending, museum quality gluing, polishing and
more. Our acrylic creates durable museum quality vitrines for wall mounts and freestanding cases with both mitered and butt joined corners. We also specify acrylic thickness for artifact cases to ensure
the security and ease of access.
Prior to shipping, all project components are assembled in their entirety at the 1220 facility to ensure fit and finish and to minimize onsite installation time. All exhibits are carefully loaded using packing blankets, custom crates and skids as needed. 1220 uses dedicated 53 foot trailers and other smaller vehicles to transport the exhibit components safely to the site.
SEAMLESS INSTALLATION COMMUNICATION
Our 1220 in-house Production Team Leader also supervises the installation of the project on-site to ensure continuity of quality control. Contingent upon specific location requirements, 1220 team members will install the exhibit on-site ensuring a custom fit and high quality completion. The Team Leader and Project Manager work together during shop fabrication and on-site installation to ensure a successful project.