Our Graphics Department offers a variety of in-house graphic production services to set the backdrop and help interpret the story of any exhibit, environment or event. 1220's graphic capabilities include:
Direct Print
Silk Screening
Vinyl
Specialty Graphics
Digital File
1220 is home to one of the few Arizona 1300 series & Colorado 1630 printers in the U.S. The Arizona 1380 XT is a true flatbed printer based on UV-curable ink. Quick, reliable, and low-maintenance, the XT is known for its ideal print quality and versatility for both rigid and flexible media applications. Its self-learning technology helps leverage the expertise of our graphics production team, and is designed to serve the versatile printing needs of print providers by offering the brightest ever white UV ink and clear varnish. The Colorado 1630 is a wide roll printer that offers the unique ability to print matte or gloss on the same equipment, and is ideal for wallpapers and murals. The 1630 also uses a gel ink that is more resistant to dirt and debris, paving the way for flawless graphics.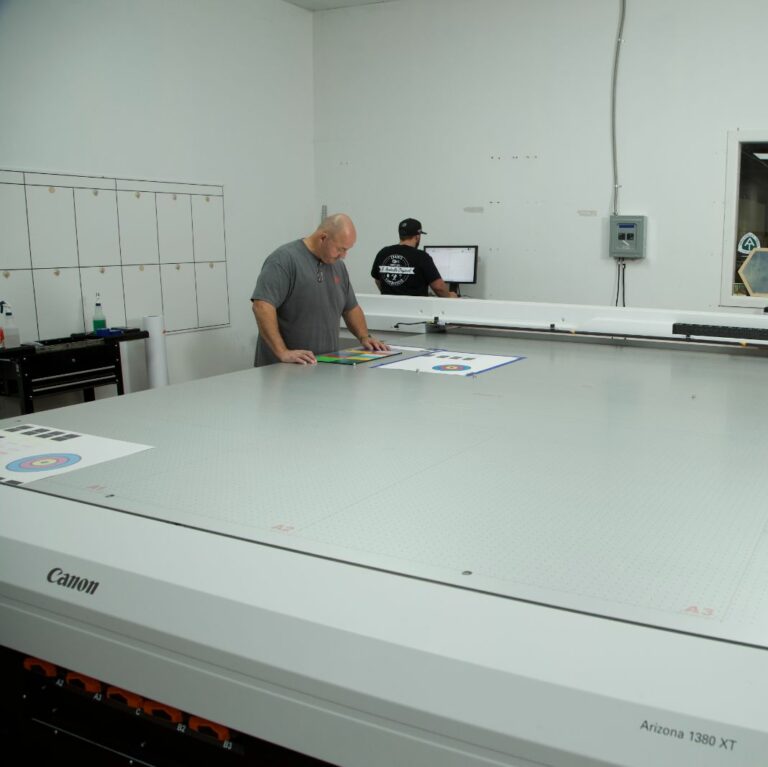 Silk screening is a great benefit to the museum marketplace as almost any flat surface can be silk screened. The 1220 Graphics team creates custom screens from digital art files to transfer text or designs through a print making process for incorporation into exhibit elements. Inks can be custom mixed to match specific PMS colors. In addition, one of 1220's artisans is available to travel to site to perform the silk screen process directly to the facility wall or other on-location substrate
Vinyl text and graphics are often used to retain flexibility for updating exhibit elements. 1220's graphics department custom cuts and print first surface or second surface application to almost any solid substrate, such as plex, wood, glass, acrylic and laminate.1220 accesses several vinyl vendors, each of which houses approximately 150 different colors of vinyl, so the color options are vast. If value engineering is needed, vinyl can prove to be more cost effective than printing.
To support the in-house capabilities, 1220's Graphics Manager has developed a list of pre-qualified subcontractors for the production of fabric banners, porcelain enamel graphics, phenolic resin graphics and large scale wallpaper murals.
Through state of the art programs and applications, the Graphics Department can assist with file manipulation, hi-resolution scans and the creation of production-ready art, from concept to completion or bringing a provided design intent to fruition. Whether starting from scratch or working with provided graphics, the 1220 Graphics Department can handle it all.
Canon Arizona 1380 XT wide-format flatbed printer. Offering edge-to-edge printing with ease for media or objects of practically any size.
Canon Colorado 1630 roll printing machine with white capabilities. Offering UV gel Technology.
Mimaki JV300-160 SUV roll printer great for wallpaper, window graphics, POS displays.
High speed print heads with multiple drop sizes producing non-grainy / smooth printing results.